Once I was beset by anxiety but I pushed the fear away by studying the sky. - Louise Bourgeois

JESSICA A.

-Kiki Smith

::

http://www.pbs.org/art21/artists/smith/

look at her work, but don't listen to her talk - it's irritating.

JENNA B -

cornelia hesse-honegger

- http://www.wissenskunst.ch/en/biographie.htm
Chris Ofili -
i think his paintings might have a closer link to you, but have a feeling his sculptures do as well
KITTY B -
Alexander Calder --> http://www.calder.org/home
the Chicago Picasso =
http://www.explorechicago.org/city/en/supporting_narrative/attractions/tourism/picasso.html
representing the:
woman
a baboon
picasso's dog - an Afghan
I hereby give this work and the right to reproduce it to the Public Building Commission…desiring that these gifts shall, through them, belong to the people of Chicago. – Pablo Picasso, 1966
PAUL B-T -
Matthew Barney --> http://www.cremaster.net/
MC.KENZIE E -
Cristo --> http://www.christojeanneclaude.net/
KARA G -
bourgeois louise
CODY H
-
http://www.anishkapoor.com/works/index.htm
Sea Mirror, 2006
States of Limbo, 2007
GARRETT H. -
Lee Bontecou
, American sculptor (born 1931)
KAITLYN H -
tim burton
Joe Sorren
Giacometti
MICHELLE L -
MIKE P.
- anatomy, muscles,
Ron Mueck
http://www.brooklynmuseum.org/exhibitions/ron_mueck/
AMANDA P. -
damina hirst
paul theck http://miamiartexchange.com/2010/08/first-major-us-museum-retrospective-of-paul-thek-at-the-whitney-october-21-2010%E2%80%93january-9-2011/
Yayoi Kusama http://www.yayoi-kusama.jp/e/biography/index.html
JAKE S -
brain crockett
felix gonzalez-torres
ZACH S. -
piss christ
andy warhol
jeff coons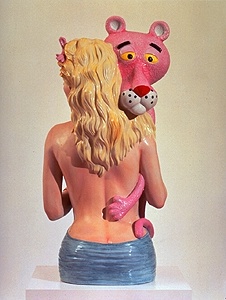 DAWSON W. -
Peter Callesen- -http://www.petercallesen.com/
SOPHIA Z -
http://www.katemacdowell.com
/index.html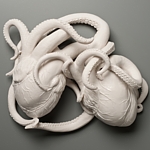 For Our Class Illustration Majors:
PAUL CONRAD http://www.conradprojects.com/W.html
http://santamonicacloseup.com/photo-essays/public-art/307478
On Monday March 6, 2006. a mailman pushes his parcels past the public art work titled, 'Chain Reaction' 1991 by Paul Conrad, in front of the Santa Monica Civic Center. 'Chain Reaction' is a copper chain link, stainless steel sculpture.
you can see more of his sculptural work --> http://www.conradprojects.com/Sculptures
more of his political cartoons --> http://www.conradprojects.com/Contoon01.html
unfortunately - Paul died today. He will be missed. the fearless spirit of the freedom of speech and illustration.
Installation Art that's kind of exciting
This was all TAKEN from ART DAILY: http://www.artdaily.org/index.asp
Canadian Pavilion in Venice: Hylozoic Ground by Philip Beesley : http://www.artdaily.org/index.asp?int_sec=2&int_new=40466
An overall view of Hylozoic Ground as installed in Quebec City as part of the Mois-Multi 11 festival in 2010.
VENICE.- For the 12th International Architecture Exhibition
Hylozoic Ground
transforms the Canada Pavilion with an immersive, interactive environment made of tens of thousands of lightweight digitally-fabricated components fitted with meshed microprocessors and sensors. The glass-like fragility of this artificial forest is built of an intricate lattice of small transparent acrylic meshwork links, covered with a network of interactive mechanical fronds, filters and whiskers. The environment is similar to a coral reef, following cycles of opening, clamping, filtering and digesting. Arrays of touch sensors create waves of diffuse breathing motion, luring visitors into the shimmering depths of a forest of light. The project is designed by Philip Beesley, Associate Professor of Architecture at the University of Waterloo, with engineering director Rob Gorbet, experimental chemist Rachel Armstrong, and many collaborators. The project's title refers to 'hylozoism', the ancient belief that all matter has life. Hylozoic Ground offers a vision for a new generation of responsive architecture. The Hylozoic Ground environment can be described as a suspended geotextile that gradually accumulates hybrid soil from ingredients drawn from its surroundings. Akin to the functions of a living system, embedded machine intelligence allows human interaction to trigger breathing, caressing, and swallowing motions and hybrid metabolic exchanges. These empathic motions ripple out from hives of kinetic valves and pores in peristaltic waves, creating a diffuse pumping that pulls air, moisture and stray organic matter through the filtering Hylozoic membranes. 'Living' chemical exchanges are conceived as the first stages of self-renewing functions that might take root within this architecture.